Coke bottler may find Brazil market still has fizz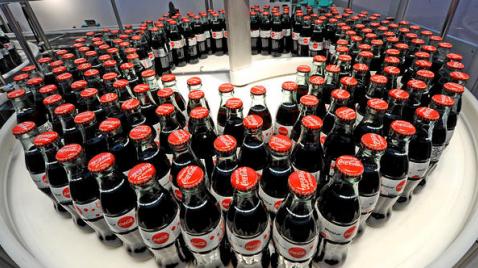 Coca-Cola Femsa may find that Latin America's largest consumer market still has plenty of fizz. The Coke bottler's $448 million purchase of Companhia Fluminense de Refrigerantes, at 11.2 times operating earnings, was a sound deal. Middle class Brazilians may no longer stomach corrupt politics, but they continue to gulp more Coke. The transaction may usher more deals among Brazilian bottlers.
For KOF, the world's largest Coke bottler, acquiring Fluminense, a small Brazilian bottler, implied no wallet-busting effort. The all-cash deal was the smallest in dollar terms of its last six acquisitions. Indeed, the purchase marks KOF's return to more conservative investing. For starters the deal's 11.2 times earnings multiple sits in the mid range of what KOF has typically paid for bottlers over the past three years, according to Credit Suisse estimates. Plus, it is a sound price to pay for Fluminense's 17 percent operating returns. This is an improvement from the eye-watering $1.35 billion, or 13.5 times operating earnings multiple, KOF paid in 2012 for 51 percent of a Philippines bottler that generated just 9 percent returns. What's more, expanding in Brazil, a familiar turf for KOF, offers considerable cost-saving advantages – nearly $14 million a year by the bottler's own estimates.
Still, Fluminense needs work. The bottler's operating margin falls short of KOF's 19.3 percent estimated returns for 2013, based on data compiled by Bloomberg. Credit Suisse reckons product penetration in Fluminense's territory reaches merely 35 percent, a far cry from KOF's 60 percent level in its established Brazil operations. Already Coke consumption per capita in Brazil lags behind Mexico, home to the most soda-thirsty consumers in the world. But sales growth is still there. KOF's soft drink sales in Latin America's largest economy have risen an average of 2 percent a year since 2010, despite weak economic growth. KOF's record of strong management could do much to improve Fluminense's outlook.
But perhaps the more most interesting aspect of the KOF deal is its timing. Brazil has lost its former shine as the go-to destination for investors. The country's Bovespa equity index is down nearly 26 percent this year, making it the worst performer in emerging markets. And protests by a middle class fed up with ineffective government continues to scare off investors. That KOF chose to expand at a time of turbulence suggests there may be good deals to be had in the bottling sector. With Fluminense, KOF will control 30 percent of the market for Coke in country. But with 11 independent bottlers serving 36 percent of Brazil's Coke volumes, KOF has plenty of opportunities to continue growing.
Brazilians may be angry, but they may still have the time and money to have a coke and a smile.